FSR 100 - Summer 2019
As we're celebrating our 100th edition this issue, it seems an opportune time to look back over the years and see how we've changed along with the foodservice sector. You'll find that story along with a collection of past covers on page 4 - plus exciting news about the next step in Foodservice REP's evolution. Also this issue we take a look at the steps being undertaken by many in the foodservice sector to raise awareness of the mental health challenges often faced by workers who are subject to long hours and high pressure environments.
FSR 99 - Spring 2018
Our cover story this issue is an interview with internationally acclaimed pastry and dessert chef Christy Tania, whose culinary ambitions led her away from IBM's Global Business Services Management team in Singapore where she was working as a project manager at 23. And with the festive season fast approaching, this issue we focus on functions – looking at the challenges of preparing a function menu in today's market and checking out the classy club food being served at Club Toukley RSL.
FSR 98 - Winter 2018
We start off this issue with an interview with Tony Twitchett, Executive Chef at Melbourne 'destination restaurant' Taxi Kitchen. We also report on the 20th anniversary Proud to Be a Chef mentoring program. Entries for which opened at the beginning of August. Apprentice chefs have until 31st October to try for a place in this truly life-changing experience. And with burgers such a hit among Aussie diners, we look at what other protein options are out there apart from the obvious choice of beef.
FSR 97 - Autumn 2018
In this edition we interview Robert Green, Executive Manager of Operations at Revesby Workers, one of Sydney's biggest and highest profile clubs – an icon of the local community which has built an enviable reputation not only for the breadth of its services but also the quality of its dining standards.
We also look at readymade soups, sauces and gravies; examine the contemporary trends in seafood; and celebrate the 100th birthday of iconic Aussie poultry products supplier Ingham's. Plus all the latest news and insights form the world of pizza, pasta and Italian cuisine in this issues IGNITE section starting on page 25.
FSR 96 - Summer 2017
In this edition we find out Gary Johnson's recipe for success. For the Spirit Hotels National Food Manager and Group Executive Chef, it's all about excellent execution every time. We also take a look at the challenge of preparing and serving gluten and allergen free food as well as breakfast trends, what makes and breaks a burger and how pizzas are rising to the top of pub menus. Special healthcare focus: My Food Choice transforms patient meal deliveries and pre-moulded minced and pureed foods receive a new, more appetising lease on life.
FSR 95 - Spring 2017
Proud to be a Chef is heating up for its 19th iteration in 2018. Hear all about how the preparations are going for Australia's number one foodservice mentoring program. In this issue we also take a special look at festive season functions. Our functions focus will take you from The Terrace of Melbourne's Royal Botanical Gardens, to the Brisbane Racing Club and the Spirit Hotel group. You can also read about what is trending on functions menus and how the AITC is protecting the status of professional chefs.
FSR 94 - Winter 2017
Our cover this issue features Mario Libertini of La Piazza, an authentically themed Italian dining precinct nestled within the environs of Bankstown Sports Club. We chat with Mario to discover how he has created such a successful establishment. In this edition, we also take a look at enhancing the standard breakfast menu and setting your burgers apart from the competition. You can also read about Nutella Heroes, contemporary presentation trends in cakes and pastries, and the 2018 Proud to be a Chef mentors.
FSR 93 - Autumn 2017
In this issue we take at special look at the process of super freezing at ultra low temperatures (ULT), a technological innovation that has revolutionised the seafood market. Get ready for the big news, ULT Yellowfin Tuna is now available on Australian shores. We also take a look at the growing demand for more contemporary seafood styles and pose the question 'has from-scratch sauce had its day?' In addition, you can read up on all the latest foodservice news and info regarding effortless baking, Proud to be a Chef, coffee and healthcare.
FSR 92 - Summer 2017
Our feature article this issue explores the current catering climate. We chat with Executive Chef Asif Mamum and Corporate Executive Chef Markus Werner about how to best cater to the growing and changing demands of contemporary function attendees. In this issue we also take a look at gluten free, burgers and the breakfast market, as well as pre made desserts and a special focus on healthcare.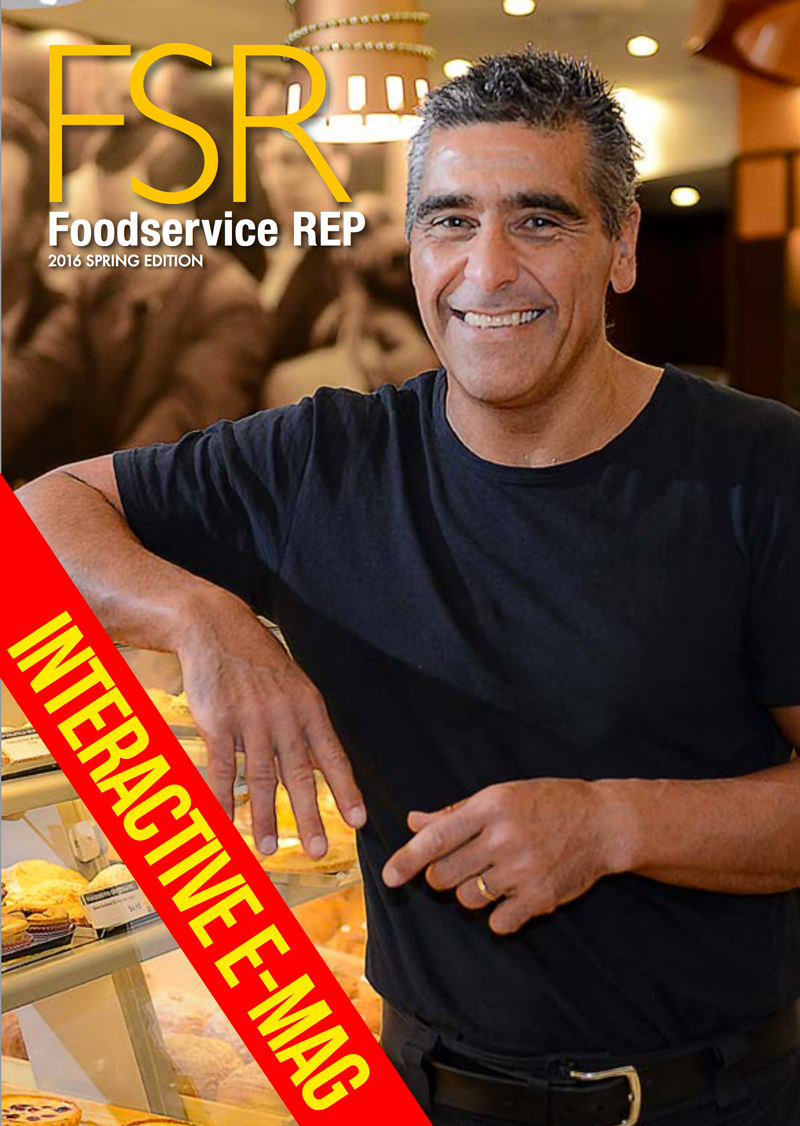 FSR 91 - Spring 2016
This issue we've introduced something new – an easy way if reading the magazine online, which also allows you to access exclusive bonus content.
From now on each issue of Foodservice Rep will be available to read online in convenient flipbook format. All the regular features if the print edition will be included in new digital format, plus we will also be featuring bonus content such as extended versions of some stories and videos to watch.
As a special offer, when you sign up to access the digital version of the magazine you'll also receive a regular monthly program guide showcasing the latest content on Hello Foodservice – our monthly foodservice video program series. You can sign up online by clicking this link or typing it into your browser: http://eepurl.com/bJ8jQ5
FSR 90 - Winter 2016
Welcome to our special 'Focus on Profit' issue. Each story topic this issue has been chosen to highlight the benefits of offering a particular meal type on the menu in terms of generating profit for your foodservice business.
Whether you are working in a pub, club, cafe or restaurant, you'll find informative advice and expert comment which will help guide you towards making sound menu choices that will help boost repeat business and aid the bottom line.
Also this issue, we interview Karen Doyle who as head teacher at Le Cordon Bleu in Sydney has the challenging job of mentoring our next generation of chefs.
FSR 89 - Autumn 2016
This issue's cover interview with Dominic Criniti tells the inspiring story of how a family business built on passion and hard work has managed to grow far beyond its humble beginnings. We also examine the growing tendency of foodservice professionals to bring in commercially prepared soups and sauces which can be used as bases to which their own finishing touches can be added, in preference to the time and effort of from-scratch preparation. Plus looks at spices and seasonings driving menu extension, choosing the right coffee, technological innovations in bakery and more!
FSR 88 - Summer 2016
In our first issue for 2016 we begin with a big interview, featuring not just one but three corporate chefs – Adam Moore, Mark Baylis and Mark Clayton, all of whom offer interesting insights into what's required to succeed in this challenging role. We also look at some of the latest innovations in dairy products, examine contemporary stylings in seafood presentation, and point out the importance of including gluten free meals on the menu to meet the growing demand. All this plus the latest edition of INSIDE PIZZA packed full of features from the world of independent pizzamaking.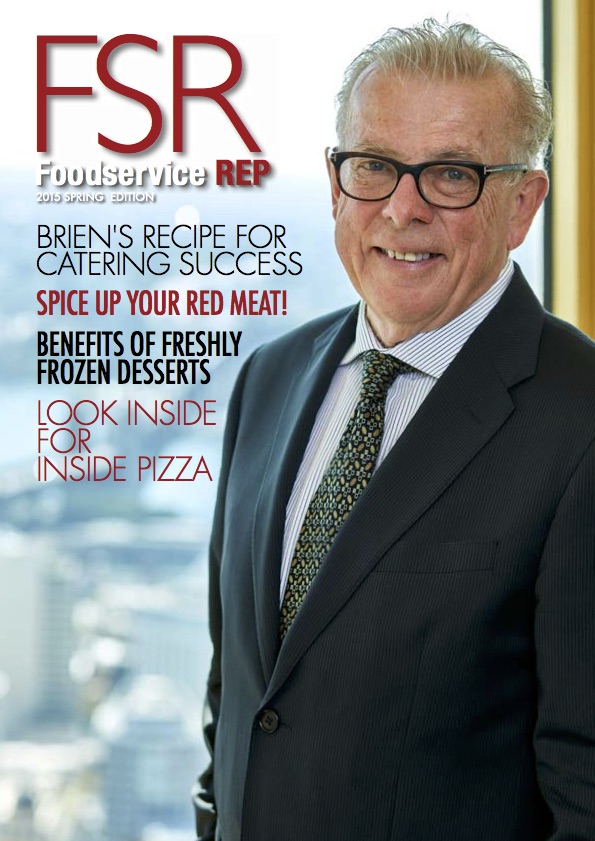 FSR 87 - Spring 2015
We interview Brien Trippas of major catering organisation Trippas White Group, look at the benefits of branded beef and tell you how you can spice up your red meat with the latest contemporary flavours. We also examine the growing popularity of freshly frozen desserts and profile a retail and brand design specialist which has helped foodservice businesses boost their turnover. Plus more news from the world of independent pizzamaking in the latest edition of Inside Pizza.
FSR 86 - Winter 2015
This issue we're proud to be a part of the 50th anniversary celebrations for one of Australia's most important foodservice competitions, the Nestlé Golden Chef's Hat Award. Plus stories on how alpaca meat is making inroads to the restaurant market, the growth of pizza on the pub, bistro, club and cafe menu, rewards programs, the industry alliance protesting against the proposed introduction of mandatory Country of Origin labelling for seafood in foodservice, and much more.
FSR 85 - Autumn 2015
This issue we feature a special report on why you need to give serious consideration to including gluten free meal options on the menu – but it's important to bear in mind that if you're advertising food as gluten free, you have to be sure that it actually is. In our interview with David Sullivan from Coeliac Australia, he points out some of the relevant concerns and issues that can arise.
FSR 84 - Summer 2015
With another glorious Aussie summer here, it's the perfect time to look at serving up barbecued and grilled meats … and this issue's feature article explores the latest popular trends and meat cuts on the menu. Sam Burke, Corporate Chef at Meat & Livestock Australia, gives us a rundown on what's hot as well as some great advice about how chefs can raise the profile of red meat menu items to something special. For full details check out our story starting on page 8.
FSR 83 - Spring 2014
Renowned master sushi chef Hideo Dekura has spent more than four decades educating chefs and the public about his native cuisine – many of them spent here in Australia. Our interview with Hideo is this issue's cover story, plus there's also a report on how to cater for the special dietary requirements becoming ever more commonplace among your customer base.
FSR 82 - Winter 2014
We speak to the new Australian Culinary Federation President Neil Abrahams about his goals for the association's future. Plus local vs imported – what's the real story when it comes to seafood and fruit. Should dessert always be made from scratch – or is there a place for pre-made sweets on your menu? Plus we shine a spotlight on Kikkoman Naturally Brewed Soy Sauce and show you how Popcakes can help you achieve perfect pancakes every single time!
FSR 81 - Autumn 2014
This issue looks at the important work done to train up our next generation of chefs at Victoria's oldest and largest food, tourism, hospitality and events training centres which enrols over 21,500 students per year. We also talk to four chefs who are committed to the fine art of food presentation, and explore the philosophies which lie at the heart of their varying approaches. Plus we examine some of the stresses faced by chefs and cooks in today's highly competitive commercial environment.
FSR 79 - Summer 2013
We speak to Martin Benn and Vicki Wilde, co-owners of Sepia, SMH Good Food Guide's Restaurant of the Year. We discover how Southeast Asia is helping to solve Australia's seafood shortage, show you how social media can make or break your business, and George Hill shares a handy index of commercial kitchen lingo. Plus the latest products for your summer recipes!
FSR 77 - Spring 2012
Step into chef Jake Nicolson's big wide world of opportunity, find out what every chef needs to know about rising food allergies and intolerances, start preparing for the festive season and meet an Aussie chef who lives in London and serves world class Japanese cuisine.
FSR 75 - Winter 2013
There's no doubting the passion and dedication of this issue's cover story subject, executive chef Marcus Werner of Melbourne Olympic Park – it shines through in our illuminating interview. Marcus is a great example of the staunch professional committed to doing his very best in an industry he loves, and his story is an inspiring one.
On a seasonal note, with the colder months now upon us it's the ideal time to present a story on how you can use the 'chef's secret weapon' – Kikkoman Naturally Brewed Soy Sauce – to enhance your menu with that authentic taste of umami, the often-elusive fifth flavour which the Japanese intriguingly describe as "more than delicious".
We also look at a terrific sugar alternative which is 100 per cent natural and can be used in cooking and baking as well as in place of sugar on the tabletop – a sweet way to cater to more customers!
FSR 73 - Autumn 2013
WELCOME This issue we lead off with a fascinating interview with Shannon Kellam, Executive Chef at the prestigious Brisbane Club and an outspoken proponent of chefs participating in competitions both here and internationally. Shannon explains how competing is a valuable tool for honing your skills as well as presenting terrific networking opportunities. We also talk to Tim Peterson of Sydney's trendy Café Dov and George Diamond, Executive Chef for the Keystone Group. And be sure to read Black Hat Chef George Hill's column this issue – it's funny, but gives food for thought too.
FSR 71 - Summer 2012
This issue we feature an inter -view with consultant chef Peter Kuruvita, whose culinary journey has taken him all around the world and back to his adopted home of Australia. You may recognise Peter's photograph from his appearances on two SBS TV series – he's also written cookbooks, and of course is famous for his restaurant ven -tures including Flying Fish in Sydney. You can read all about Peter's road to success starting opposite. There's also a story on chef Martin Benn, famous for Sepia restaurant, who helps shed some light on the often elusive Japanese concept of "umami" – the fifth flavour – and how you can incorporate it into your cuisine. Plus plenty of product news – including additions to the already extensive Birch & Waite range of quality condiments and sauces!
FSR 69 - Spring 2012
Our cover story this issue focuses on not one but two food service pro fessionals – twin sisters Monica and Jacinta Cannataci, who are remarkable for having worked side by side in food service for many years. Theirs is a fascinating story – providing an insight into the special bond that many twins share, and how that has worked in their favour! We also look at some terrific new products, like the stunning Lindt Petites Pâtisseries au Chocolat range and the new chargrilled roasting vegetable range from Bamboleo. Plus there's details of product and packaging innovations, from the new improved Glad Bake which now offers 20 per cent better non-stick per -form ance, to new Maggi Smart Pail pack design which comes with a host of 'smart features' to make storage and handling easier than ever. And plenty more to get your teeth into!
FSR 67 - Winter 2012
This issue's cover story exemplifies the growing interest in food sustainability by showcasing executive chef James Viles' success in establishing Biota Dining, a Southern Highlands eatery built around the concept. James' story is a fascinating one – and you'll also gain some insights into his innovative dining philosophy. Also this issue, we take a look at the MLA Black Box Culinary Challenge, a great competition for young chefs which has just celebrated its 100th event; and learn how the Executive Chef at busy Wallsend Diggers Club solved the problem of ensuring consistent coffee quality by making the move to automated equipment from Tiger Coffee. Plus a look at Bamboleo's new roasting chargrilled range, the latest selection of MAGGI Premium Soup Mixes, and much more.
FSR 65 - Summer 2012
Continuing our efforts to bring you something a little different with each issue's cover story, this time around Foodservice Rep has another 'first' – an interview with Domenic Di Deo, who as National Food Operations Manager for the ALH Group oversees the food operations across 294 hotels throughout Australia. A big responsibility indeed, and what's really obvious is Domenic's passion for his work and his commitment to quality. Also this issue, we take a look at Tip Top's latest innovation, The One – the first nutritionally complete soft white bread, made from the best quality ingredients. And we check out the new Chux biodegradable range made from 100 per cent natural, recycled fibres. Plus there's lots more to absorb (pun intended) elsewhere in the magazine!
FSR 63 - Summer 2011
WELCOME Once again we bring you a fresh approach for this issue's cover story. Rather than focusing on a seasoned professional with decades of experience, we talk to a woman who's relatively new to the industry, having started from scratch with her own restaurant after a career as a schoolteacher. But being a foodservice newbie hasn't dented her confidence and what really shines through in our interview is Carol Salloum's passion, dedication and commitment to her work. Also this month we look at some exciting new products which you'll be keen to use in both front and back of house – such as four fantastic additions to the McCain finger food range, and the launch of Baxters relishes into the Australian foodservice market. Enjoy the issue!
FSR 61 - Spring 2011
In this issue:
* John Miller's long culinary journey
* Award winning HUON slow smoked salmon
* Cut down your napkin costs with Tork Xpressnap
FSR 59 - Winter 2011
In this issue:
* Effective staff management: Camm Whiteoak speaks out
* Why Baxters is your best choice
* McCain gives you the advantage!
FSR 57 - Autumn 2011
In this issue:
* Inside the world of cruise ship catering with Lars Kristiansen as your guide
* Maggi Premium soup range utilises 4G technology
* Hi-tech Glad ForceFlex bags
* Kikkoman Gluten Free Soy Sauce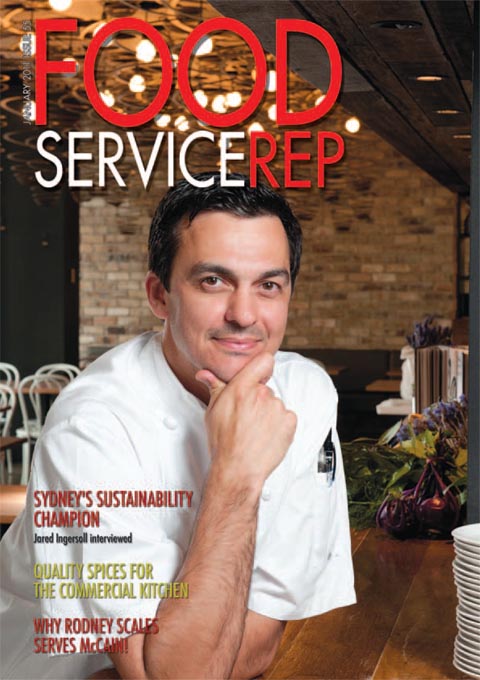 FSR 55 - Summer 2011
In this issue:
* Sydney's sustainability champion: Jared Ingersoll interviewed
* Quality spices for the commercial kitchen
* Why Rodney Scales serves McCain!
FSR 51 - Summer 2010
In this issue:
*Graham Manvell and the success of sSs BBQ Barns
*Why Tony Concotta chooses McCain
*Essential Cuisine Stocks- a terrific idea
*FREE OFFERS from Foodservice Gateway